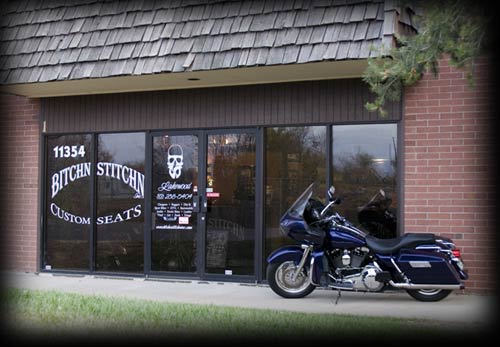 Bitchn Stitchn, Inc. started in 1990 to serve the motorcycle seat needs of the Front Range of Colorado. Since then, we have pioneered the gel application of motorcycle seats, perfected our hand fabricated steel pans to fit any custom bike, and become the experts in hand shaped foam for a custom fitted seat.
Because of our desire to constantly improve and innovate, our products and services have now expanded to include solo seat kits, backrests, and heated seats. Evolving from a one-car garage to a studio-like shop in Lakewood, Bitchn Stitchn, Inc. offers a truly unique experience for its customers. Bitchn Stitchn, Inc. has the expertise, the tools, and the equipment to get the job done. Their custom seat work and tech articles have been featured in over 60 regional, national and international magazines and books.

Dan Ballard is the founder and owner of Bitchn Stitchn, Inc. Dan began his career in the custom and antique auto and furniture upholstery business in 1988. Dan's passion for motorcycles and his desire to meet the seat needs of other motorcycle enthusiasts led to the creation of Bitchn Stitchn, Inc. in 1990. Over the last 20 years, Dan's unique seat work has been featured in local bike shows as well as in many magazines.

Luke Speckiem has been working with Dan at Bitchn Stitchn since 2003. He is a Colorado Native and has been riding motorcycles since 2002. Luke met Dan through a mutual friend and started working with him to trade a custom seat for his 97 Harley Fatboy. Years later Luke is still keeping busy in the shop, but has yet to find time to complete the seat for his own bike!

Paul Brown started customizing motorcycle seats at Bitchn Stitchn in 2014. Before meeting Dan he had experience in the custom woodworking and metal industries. Paul's background has helped him hit the ground running in the motorcycle custom seat industry. Paul is also a Colroado native and has been riding motorcycles since high school.